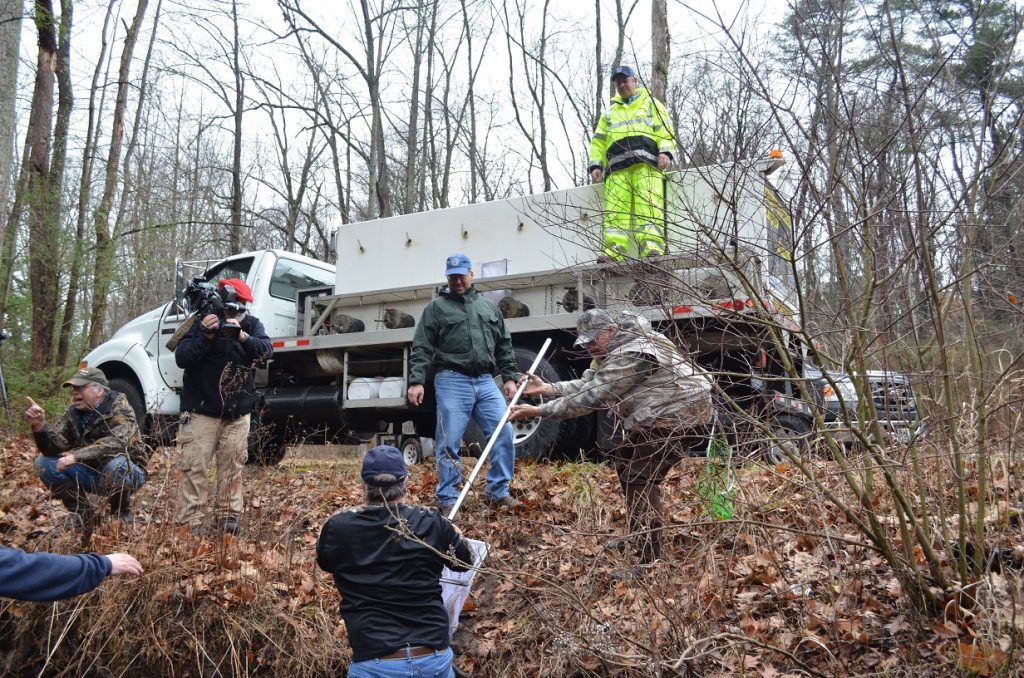 The numbers vary from state to state. The high levels of enthusiasm they generate among at least some anglers do not.
Spring is fast approaching and that means it's trout stocking season.
State fisheries agencies all around the country are trucking trout to rivers, streams and lakes to provide recreation for their license buyers. All post schedules online so that anglers know where fish are headed and when, among other things.
All that stocking is a huge undertaking.
In Pennsylvania, the Fish and Boat Commission plans to release 3.2 million trout this year. New York's Department of Environmental Conservation is shipping 2.3 million fish out, while West Virginia's Department of Natural Resources is doing 1.2 million.
Other states stock fewer. Maryland's Department of Natural Resources puts out roughly 300,000, while Ohio's Department of Natural Resources releases closer to 80,000.
Even at those numbers, though, that involves plenty of man hours, miles driven and more. Anglers shouldn't take any of it for granted.
In most cases, state agencies stock four types of trout. Here's a look at what they are and where they came from.
Brook trout
A member of the char family, brook trout are native to eastern Canada and the northeastern United States. Their range extends as far west as Minnesota, though, and as far south as Georgia, at least in Appalachian Mountain waters.
Everywhere they're synonymous with cold mountain streams shaded by forest. For many, that conjures up images of remote streams populated by relatively small fish.
But brookies can get big.
According to the U.S. Fish and Wildlife Service, the average wild brook trout stretches about 10 inches. But the biggest ever reported went 33.9.
And according to the International Game Fish Association, the world record was weighed 14 pounds, 8 ounces when caught in Canada way back in 1915.
Brown trout
These fish are world travelers.
They're native to Europe, though some also believe they ranged nearly to Asia. They first arrived in America in 1883, when a New York fish farmer imported eggs from Germany.
Roughly 4,900 were released into Michigan's Baldwin River a year later. That was the first stocking of brown trout in American angling history.
It certainly wasn't the last.
Brown trout – considered the wariest and toughest of trout to catch – were within a few decades all over the country. Agencies across 45 states stocked them at one time or another. More than 30 now have wild brown trout populations.
The world record brown trout, caught in New Zealand in 2013, weighed 42 pounds, 1 ounce.
Rainbow trout
The rainbow is to the West what the brook trout is to the East. It's native west of the Rockies, all along the Pacific coast.
It's generally considered the easiest trout to raise in hatcheries, though, being fast growing and hardy. They're easier to catch than browns if slightly more wary than brookies, hard fighting and generally tasty table fare. And they can survive in a variety of habitats.
Rainbows are considered a little more willing to rise to dry flies than, say, browns, too.
All of those things make it a staple of stocking programs, and not just in America either. Fans of the fish introduced them to 87 counties worldwide over time.
The world record rainbow came out of Canada in 2000. It weighed 48 pounds even.
Golden rainbow trout
Commonly called the "palomino" trout, these golden rainbows are the love 'em or hate 'em fish.
Some anglers get a thrill out of seeing them and especially catching them. Their bright creamsicle coloring makes them stand out – one angler once referred to them as tracer rounds – to everyone from fishermen to raccoons, ospreys and herons.
Other anglers despise them, viewing them as a hatchery-spawned abomination.
They did indeed get their start in captivity. Way back in 1955, Vincent Evans, a hatchery manager for the state of West Virginia, noticed a single gold-colored rainbow among trout spawned in his facility. He set it aside.
That set in motion an effort to get more fish of that color going forward. It took a while, but West Virginia started stocking goldens in 1963.
The rest, as they say, is history.
Whatever trout you catch this spring – a feat would be to catch all four in one season – remember it took some doing to get it to you, not only in terms of this year's stocking effort, but history, too.
So take a moment to enjoy the fighting force of nature on the end of your line. It's special in one way or another.
Bob Frye is the Everybody Adventures editor. Reach him at (412) 216-0193 or bfrye@535mediallc.com. See other stories, blogs, videos and more at EverybodyAdventures.com.