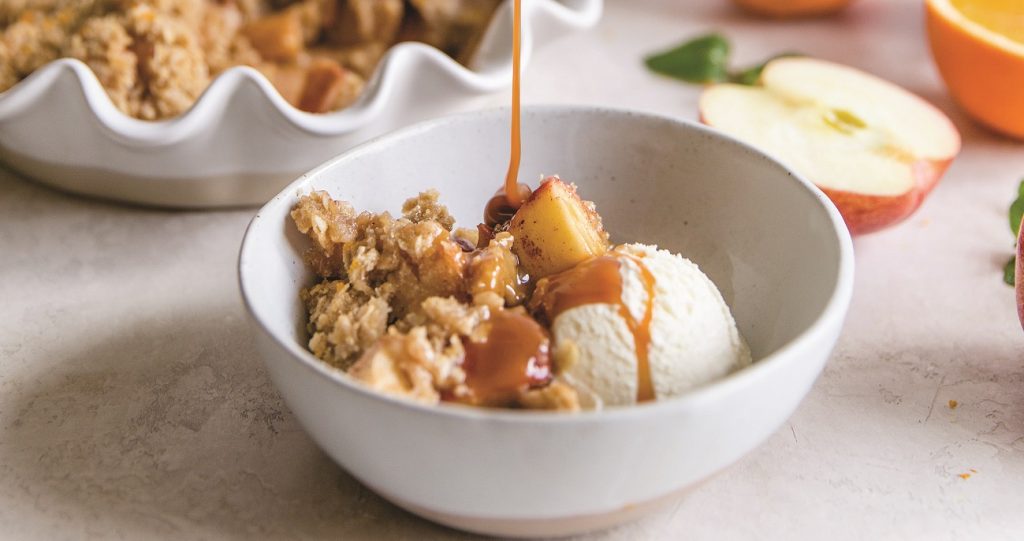 (Family Features) Entertaining guests during the holidays isn't just about the main course that calls all to the table. What often makes a festive gathering more fruitful is a spread of delicious appetizers, delightful drinks, and divine desserts that keep loved ones coming back to the kitchen for more.
For appetizing dishes from the first guest at the house to the last out the door, you can heighten the flavor and appearance of favorite recipes with one simple ingredient: apples. Ranging from tart to sugary sweet, finding the right balance for your palate is key. Scent can also influence taste, especially when you have a balanced sweetness with an uplifting, fresh aroma.
Find more sweet holiday recipes at EnvyApple.com.
Apple Oat Crumble and Citrus Caramel Topping
3 tablespoons sugar
1/2 teaspoon ground cinnamon
2 Envy Apples, diced into large cubes
1 tablespoon lemon juice
1/2 cup brown sugar
1/2 cup all-purpose flour
1/2 cup old-fashioned oats
1/2 cup cold butter, diced small
1/2 cup caramel
1/4 teaspoon salt
1/2 orange, zest only
1 tablespoon orange juice
vanilla ice cream
Preheat oven to 350 F.
In a bowl, stir together sugar and ground cinnamon.
Toss apples in lemon juice then in cinnamon-sugar mixture. Spread in a 9-inch pie dish.
In another bowl, stir together brown sugar, flour, and oats. Using hands or fork, cut in butter until pea-size crumbs form. Sprinkle evenly over apples.
Bake 40-45 minutes until the mixture is bubbling and golden brown. Remove from oven and let cool 15 minutes.
In a small pot, whisk caramel, salt, orange zest, and orange juice until warm.
Spoon apple oat crumble over large scoop of vanilla ice cream and top with salted citrus caramel.
Source: Envy Apples